USA Clue Boardgame 2003 Edition
& UK Cluedo Boardgame 2004 Edition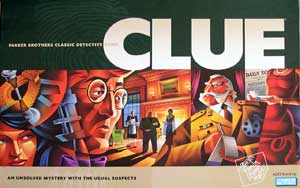 A new version of Original Clue / Cluedo was released in the USA in January 2003 and UK in February 2004. The information we have and the USA cover image, come from Michael Akers. Other pictures at the bottom of the page, come from Sammy Gresham. Thanks to both!
A review of Cluedo 2004 from the 8th Feb. 2004 edition of "Sunday Express" can be found here.
Check out the Shopping page to purchase these and other games.
The game is very stylish... the box sort of cubic / abstract.
The game is great!
The artwork is done in a very "Official Case File" style (with the officer in charge listed as Inspector Brown).
The date of the murder is Saturday, the 5th of June, 1926.
The house is Tudor Mansion, Rainbow Road, Hampshire.
The victim... Mr. John Boddy, a 29 year old anthropologist (w/ a doctorate) and nephew of the late Sir Hugh Black, Tudor Mansion's previous owner. Locals address John Boddy as Dr. Black (after his late uncle).
The suspects:


Colonel Michael Mustard - friend of Sir Hugh Black, and an aspiring writer.
[USA:] Mr. John Green aka Rev. Green - self proclaimed reverend... (the board even has his space listed as Rev. Green, even though the card says Mr.)
[UK:] Rev. Green
Mrs. Patricia Peacock - social butterfly, mother of Scarlet, and has had prior involvement with two important political figures (a reference to the movie's "senator's wife"?)
Professor Peter Plum - archeologist dismissed from the British Museum for plagiarism.
Miss Josephine Scarlet - Daughter of Peacock/aspiring actress.
Mrs. Blanche White - Boddy's longtime housekeeper/cook/former nanny. Age 63.

Overall, this game is cleverly put together and seems to reference many former "clue" games, etc. The pieces are shaped like figures and are in color. The artwork is vibrant and beautiful. The board is normal... nothing groundbreaking or exciting, but nice.
This game is about 200% better than the previous American version.
Michael found it in the USA at Target for less than $12.
It is totally different from the UK2000 version. In a way it is more cartoony, and sort of computerized - with the characters looking kind of blocky. And they certainly don't look as elegant.
Notes:
To see the characters from across the world, check out the International Page.
| | | | | |
| --- | --- | --- | --- | --- |
| Suspects | Weapons | Rooms | Board | Box Back |
| Scarlet, Mustard, White | Green, Peacock, Plum | Notepad | Details | Envelope & Card Back |
UK Cluedo TV Advert December 2005 :
(Probably also in use in 2004)

(Click an image to play movie - 823K Real Media)

French Cluedo & Super Cluedo Interactif TV Advert November 2004:
(Provided by Damien Amouyel)



(Click an image to play movie - 1.18 Meg Real Media)