Cluedo & Clue Fan Art Gallery
This section is a bit of fun where visitors can show off their artistic talents.
If you've made Cluedo / Clue picture(s) then please Contact Me

Click images to zoom in!
James Porter's Lego Cluedo Cards
Suspects:

Mrs. Peacock
Prof. Plum
Miss Scarlet
Rev. Green
Mrs. White
Col Mustard
Gabriel Stings & Friends' Cards and Cover
Gabriel Stings: We are students in Visual Art and this was a project for a Fine Art work. We are French and live in Strasbourg.
Box Cover:

Suspects:

Mme Pervenche
(Tymothée Tatou)
Prof Violet
(Léon Brigantin)
Mlle Rose
(Svetlana Erichetna)
Docteur Olive
(Gabriel Stings)
Mme Leblanc
(Marie Laflute)
Col Moutarde
(Marcellus Wallas)
Matthew Chapman's Clue Mater Detective Cards
Here are Matthew Chapman's homemade cards for Clue Master Detective: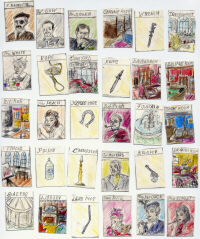 Tamara Whyte & Friends Haloween Party
Tamara Whyte and her friends dressed up as the suspects for Haloween. Below are their pictures:
| | | |
| --- | --- | --- |
| | | |
| Mrs. Scarlet - Tamara Whyte | Mrs. White - Janna Gonwa | Mrs. Peacock - Kelly Geoghegan |
| | | |
| Prof. Plum - Al Miller | Col. Mustard - Luke Jones | Plum & Mustard |
Joshua Dorsheimer's Clue Reunion 2002
An idea of what the cast would look like now, 17 years on.
From the Back Left: Michael McKean, Lesley Ann Warren, Martin Mull, Christopher Lloyd, Eileen Brennan (I know, I know, but it was the only recent picture I could find.)
Front Left: Lee Ving, Collen Camp, Tim Curry, Jane Wiedlin, Howard Hesseman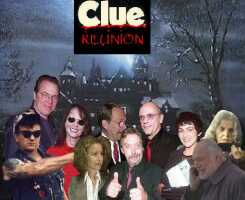 Ian Janosko & The Thiel Players' Cards and Covers
Ian Janosko: I'm a student at Thiel College in western Pennsylvania, and this past Halloween I was able to talk some of my friends into dressing as the Suspects. I was also able to talk the director of our Theatre Department into letting us rearrange his office to look like the Study, and let us take pictures in it. We staged some of the Box Covers and also the Suspect and Weapon Cards.
Suspects:

86 Edition
92 Edition
96 Edition
86 Edition
92 Edition
96 Edition
Col. Mustard
(Ian Janosko)
Miss Scarlet
(Kylene Fosmer)
Mr. Green
(Nicholas Lias)
Mrs. Peacock
(Jill Schultheis)
Mrs. White
(Beth Carpenter)
Prof. Plum
(Mark Newara)
Weapons & Back: